When a text came through from Dave Percival the erstwhile head river keeper of arguably the best bit of river Derbyshire has to offer. I was hoping when i opened the text it would be an invite to a day on the river. Thankfully when i did…….. it was! A phone call to Fish on's JP and the day was arranged.
We met Dave in the Cafe and started the day in traditional fashion with a full English…….. Very nice it was too. Bellies full we set out for the river. On arrival i could see the river was gin clear and had a good amount of water in it so i was sure it was going to be a good day. Suited and booted we set off to start the day.
My method of choice was the trusty french Leader system and JP had his tenkara set up. Tenkara has become very much talked about lately and is growing in popularity within the fly fishing fraternity. Personally i have yet to be won over by it but watching JP's execution of the technique i can see why its becoming popular. The presentation is very delicate and it certainly caught JP a lot of fish through the day.
The first pool we came to was one of our favourites and JP ever the gentleman let me have the first cast. I had searched through HIS fly box and went for one of his sakasa kebari flies. He's very much getting into the tradition and history of the Japanese art. I nicked a european variation (so to speak) of the fly from his box but he showed me some he'd tied up with silk acting as the eye rather than the usual forged eye that we know. These apparently are how they were tied originally and they were beautifully tied and looked very impressive. The thing that catches my interest more than anything regarding fly fishing is the history of it. I love the way people have developed techniques, flies, lines, rods all in the name of outdoing a fish. To see these flies of John's that were developed 100's of years ago, 1000's of miles away and with very few materials available really pricked my imagination. Good on him for being interested enough to research the history and tradition of a technique that has obviously captured his imagination.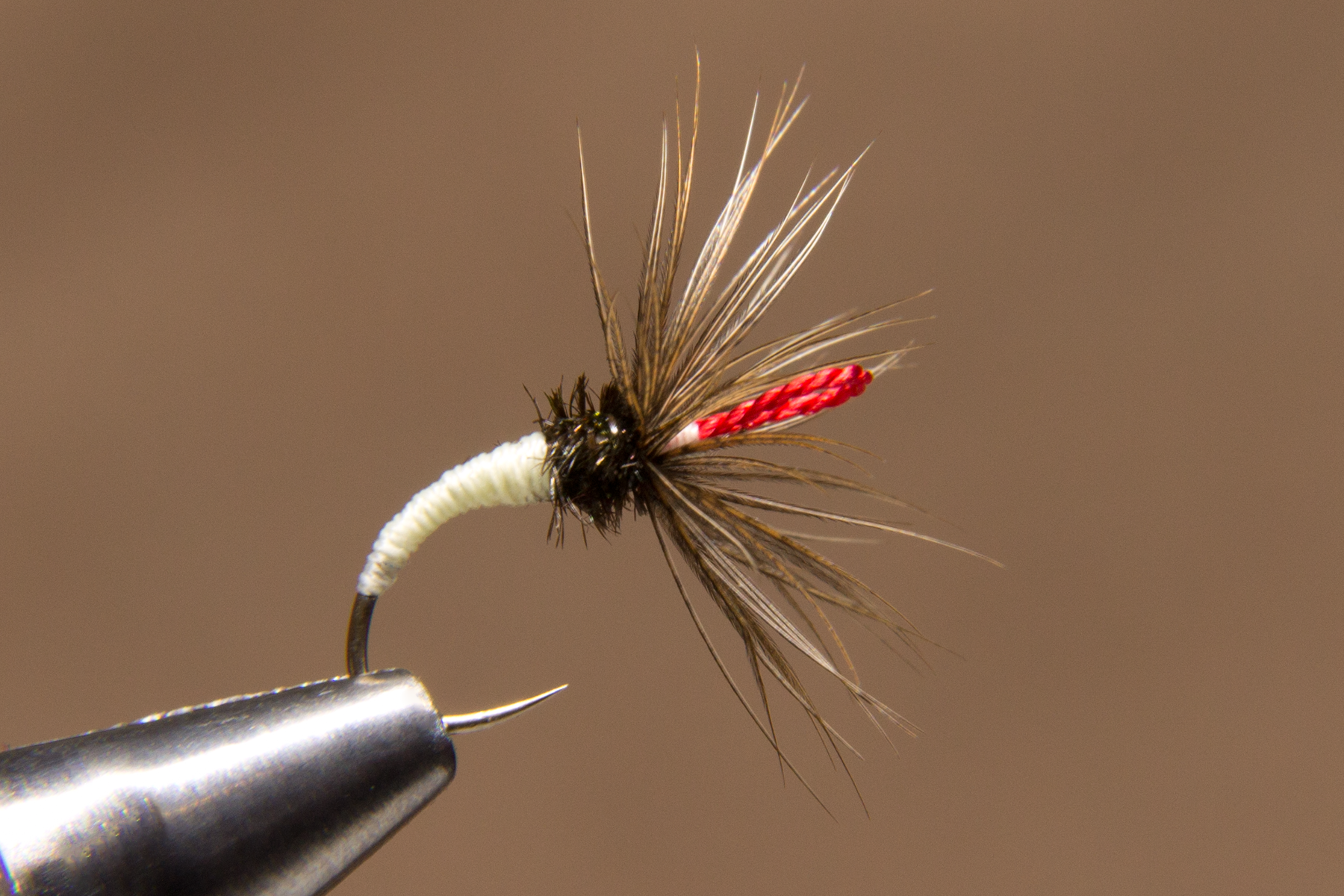 I digress. Back to the fishing…….. As i said earlier the river had a healthy amount of water pushing through and the fly i'd "borrowed" from JP was a 2.5mm bead. i'd had maybe 15 casts and I felt the fly wasn't getting down to where i thought the fish were laying. The temperature was around 20 degrees but the water was freezing. We're just at the end of summer but the water felt like it was the middle of October. It was around 11am and there wasn't any surface action and while setting up we had seen one or two fish hugging the bottom so i changed the 2.5mm sakasa to a 3mm flashback………….. Instant success! It was a subtle take and my first comment to JP was it wasn't a "big un". Then Zzzzzzzzzzzz and the fish was 10yds below me…….. Maybe it was a little bigger than i first thought? "Actually it might be 2lb i shouted across "Or even 2 1/2lb" I quickly added as the fish zipped passed me back upstream. I didn't weigh it and it was a stocked fish but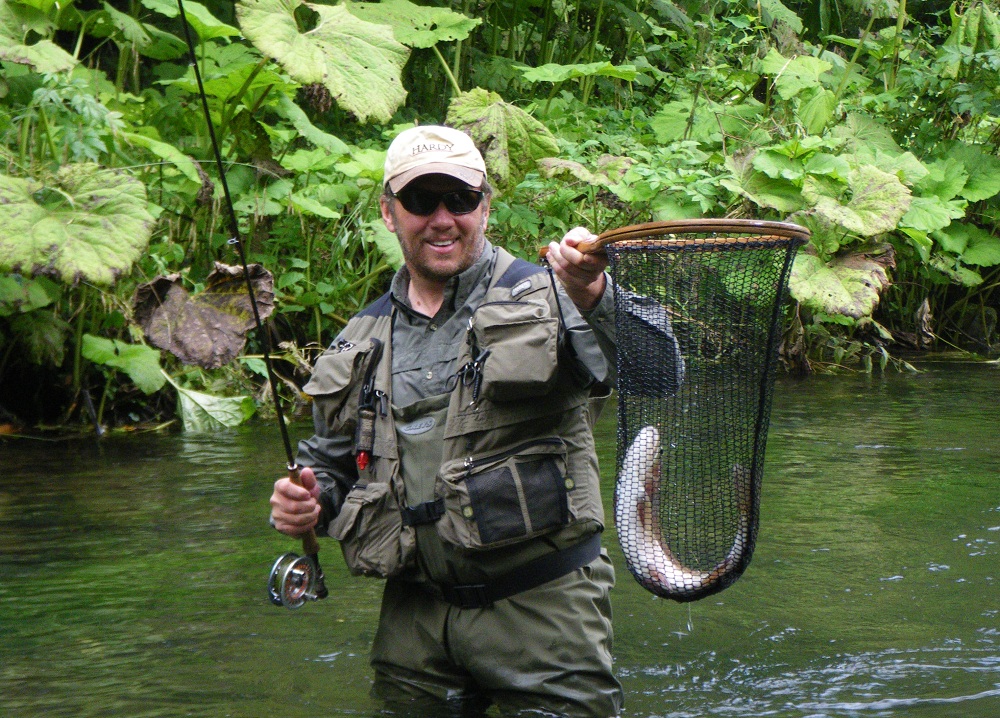 nonetheless a great way to start the day.
We moved on to the next pool which was slightly shallower than the one i'd just fished so in jumped JP with his Tenkara set up and his beautifully tied traditional tenkara fly. The pool looked quite innocuous but it wasn't long before JP was into a beautiful brownie a little over the 1lb mark. I was very interested to watch at close quarters how the tenkara set up was used and how effective it was. First thing i noticed was it cast a lovely loop and landed the fly as light as a feather (pardon the pun). My next question regarding its effectiveness was answered after a few more casts when JP was into a lovely wild rainbow. The wild rainbows in the Wye fight way above their weight. This was a rainbow and again was just over the 1lb mark. It set off like a train and i thought he may struggle to get it in with the tenkara set up given the fact it doesn't have a reel. The fish was brought in quickly and with ease……. so that was one of my concerns eradicated. The fish was a fine example of a breed of trout that flourishes in very few rivers in this country……… stunning! (Not JP but the fish ha).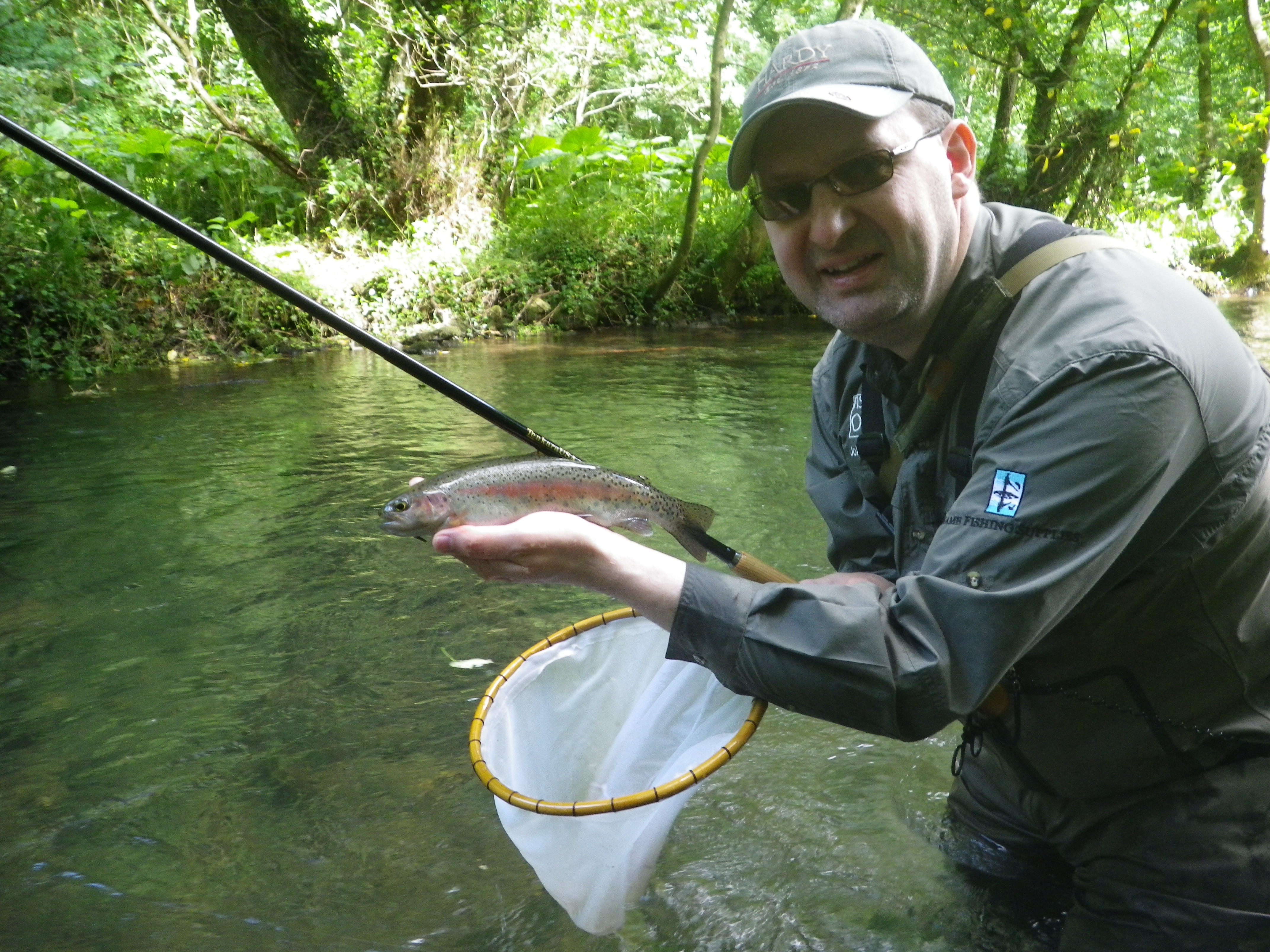 We were steadily catching fish on both methods as we were moving through the river but were both itching to fish dry fly. When we saw a little surface movement it didn't take us long to switch over to dries. As we were fishing together we decided on a sedge pattern. i went CDC and JP went with the Elk Hair retirer sedge. Both flies had reasonable success but it wasn't dynamic action. When we came to another of our favourite pools i noticed the fish were delicately sipping some very small olives. I thought as they were sipping i'd try a cdc quill bodied emerger. One thing that we like to do when fishing together is trying opposites. He tries big….. i try small. He goes heavy……. I go light……. you get the idea. So i went delicate CDC emerger…… JP went big and bushy. I hit a fish straight away a lovely brownie about 1/2lb! JP hadn't fully set up his new fly so i was back in and hit another fish after a couple of casts……. Eureka!! JP was up and running and cast into the same part of the pool i'd had my fish from…….. Nice presentation from the Tenkara with his dry fly and………. nothing? Another cast and again nothing. After a few more casts of nothing i mentioned he should perhaps change to the CDC emerger? Of course that would be too easy for JP and he doesn't "do" easy. "I'll show you" I said……. cast my fly into the foam line and bang….. another lovely brownie. By this point i had a very smug look on my face. The smug look wasn't enough to get JP to change so he cast out again into a fishy looking bit…… beautifully presented again and then with a lift and a jiggle (technical term ha) of the rod and a skitter of the fly…….. Wallop!! A lovely brownie. Once released and after the fly had a little titivation JP cast it in again. Landed it delicately……. lifted…… jiggled and Wallop! The smug look drifted from my face and became firmly planted on his :)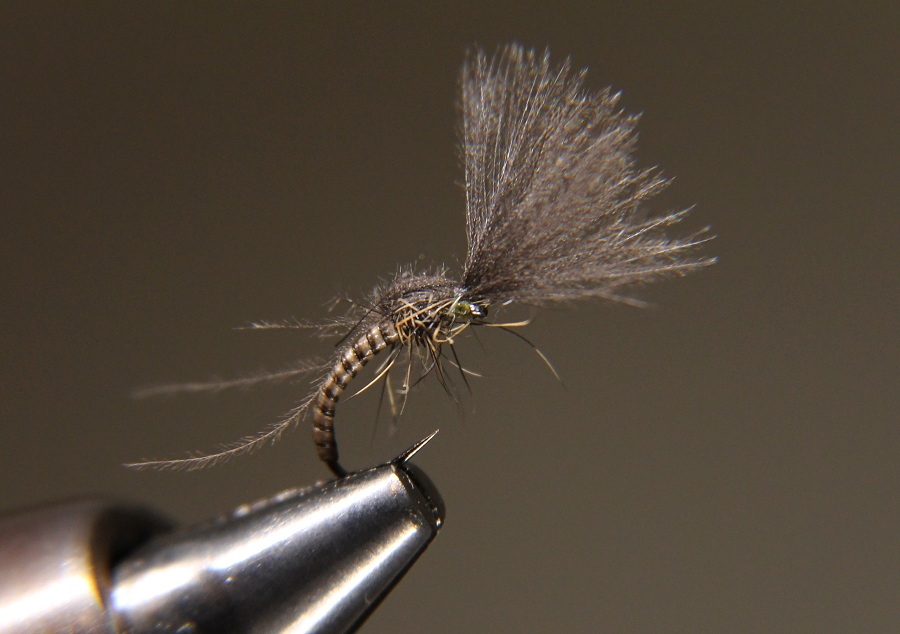 The rest of the day action was very similar. I kept with the emerger and he stayed big and bushy with movement. Both methods worked perfectly. Many fish were caught, admired and released. What i did get from the day was that there isn't "One Way" to catch fish. I was on a western system and JP on an eastern system…….. both caught fish. I started on a heavy nymph and he on a lightly weighted one……… both caught fish. Me on a dead drifted delicate small emerger and he on a big, bushy fly skittered across the surface……….. both caught fish. We adapted our favoured methods through the day and had much success along the way. So i guess the message is…… don't fix your mind on "one way" or "one method". Try things and change things until you find something that's working at that moment on that day. The next time you go out……. start again because a "different day" is most definitely a "different day" when it comes to fishing. One day method "A" is amazing and the next day it won't work. So try something…… if that doesn't work……. try something else and as the meerkat on the TV ad says "Simples"
Tight lines
Deano