It was a perfect day for fishing and me, JT and JP were invited by our old mate Chris Pryor to a day on the beautiful Derbyshire Wye. We decided to start the day off in good style with a full English at the "Cock and Pullet ". As usual we weren't disappointed with the portions or the quality of food. Besides the "fish on" boys there was Chris, John, Paul and Danny………also joining us just for breakfast was the erstwhile River Keeper Mr Percival. With full stomachs we said our goodbyes to the wonderful cooks and made off for the river.
On arrival we parked up and headed straight to the river to give it the once over. It was pushing through a little bit but looked in fine order. So back to don the waders, set up the rods and……….. have a little photo call :) We don't often get out together for a pleasure fish so we thought a nice photo would be in order. The remaining member of "fish on" was absent on this occasion so it was just the three of us. I think Dean purposely didn't turn up cos he wasn't keen of having his photo taking with these three dodgy looking geezers!.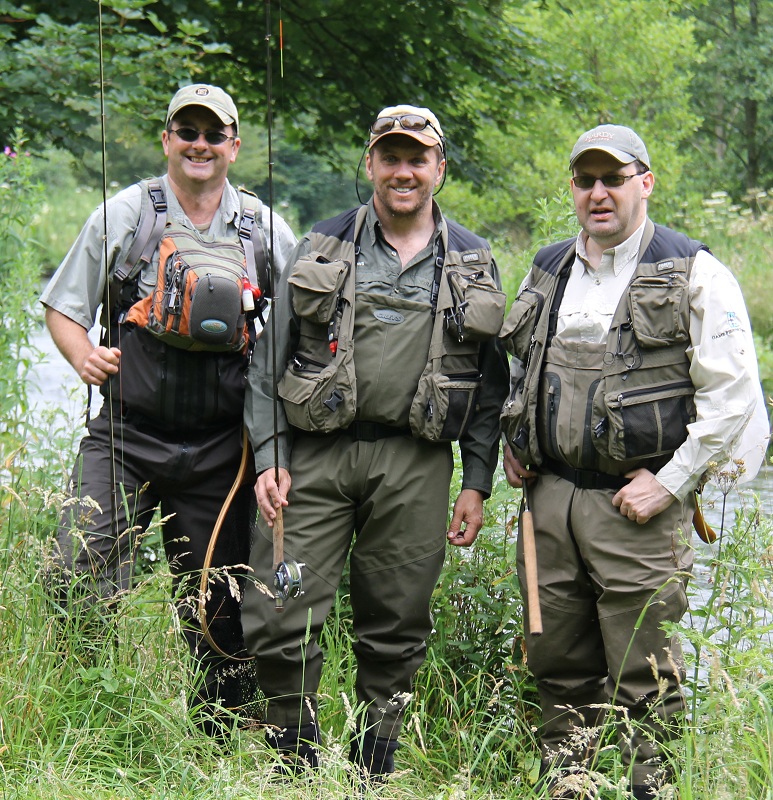 It was around 11am so me and JT set up the french leader system and Jumped in a pool in order to fish it together. Being the gentleman i am i let JT go off first. Took him ages to catch a fish (well around 52 secs ha). A beautiful wild brownie around the pound mark. During his playing of the fish his reel dropped off and plopped into the river. He netted the reel while playing the fish and then netted the fish…… that's a pro for you. My turn! I'd got my faithful silver beaded, stripped quill nymph on. Its a one fly river and as this fly has caught me more fish this year than any other by a long way it seemed the sensible way to go. As usual i took a little longer to catch than JT but i was soon into a brownie. It was a a little un but it was just a beautiful. JT had another few casts before we were getting towards the head of the pool. Being the gentleman he is he let me finish the pool off. I'm glad he did! Just i was about to give up and find another pool i did the usual "couple of last casts". My indicator subtly stopped its journey down the river and i struck into something rather nice. As i mentioned earlier the river was pushing through so it was a tricky fight.With the power of the fish and the power of the water it was going to be no mean feat to get this beauty in. After the fish had taken me to every corner of the pool he finally gave in and was quickly in my net. T'was a lovely rainbow of around 1 3/4lb. A good start to the day and off we went in different directions to find new pools to fish and more fish to hopefully catch.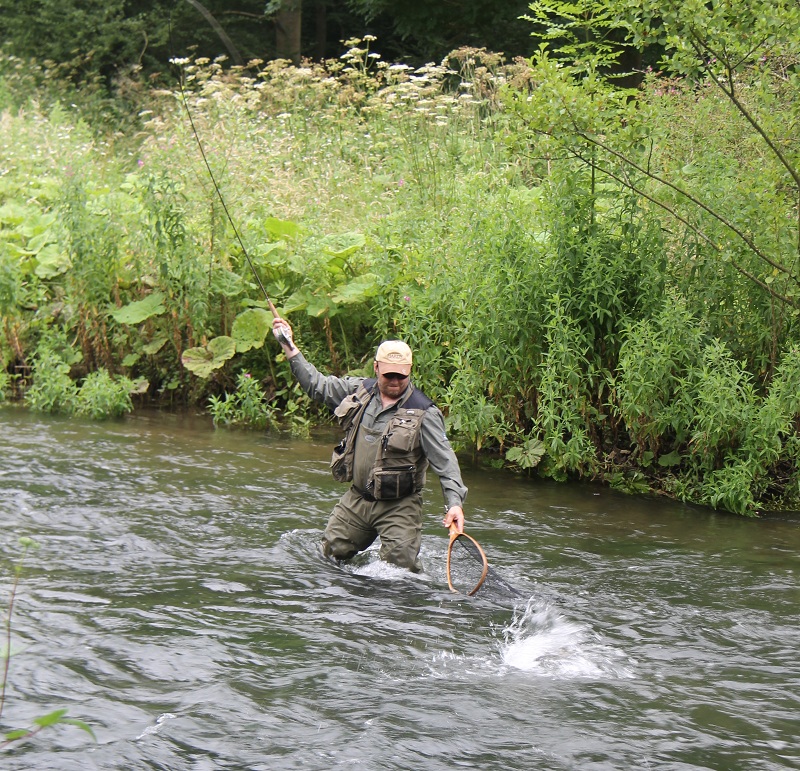 I ventured downstream and on my way passed JT in his favourite pool. I thought i'd fish well below him and i think i made a wise decision. After just a few casts i was into a Brownie of around half a pound. The fish are so stunning out of the wye that a fish of any size is a pleasure. Another few casts and i put my fly just in front of a submerged rock…….. bang! i was into a sizeable fish. As the water is so clear i could quickly see it was a brownie. This time it was a fair size bigger. A good battle ensued and i had him in the net. Cracking fish near to the 2lb mark . A wild rainbow was next to take the quill bodied fly and then i hooked into another decent fish which turned out to be a rainbow, again around the 2lb mark. At least 5 more fish before the pool was over and that was a very solid second pool.
The next pool i chose to fish was a pool i'd fished before and i knew a few fish lurked beneath the surface…….. and i wasn't wrong. It was similar to the previous pool in numbers but not quite in size. I maybe had 10 out of there but nothing bigger that 10-12oz. It was a deeper pool and i decided to go up from a 2.5mm silver bead to a 3mm copper bead (purely because i hadn't tied any 3mm silver beaded ones). It started a little slowly so i decided to put a little movement into the fly and that worked a treat. Inducing the majority of the fish.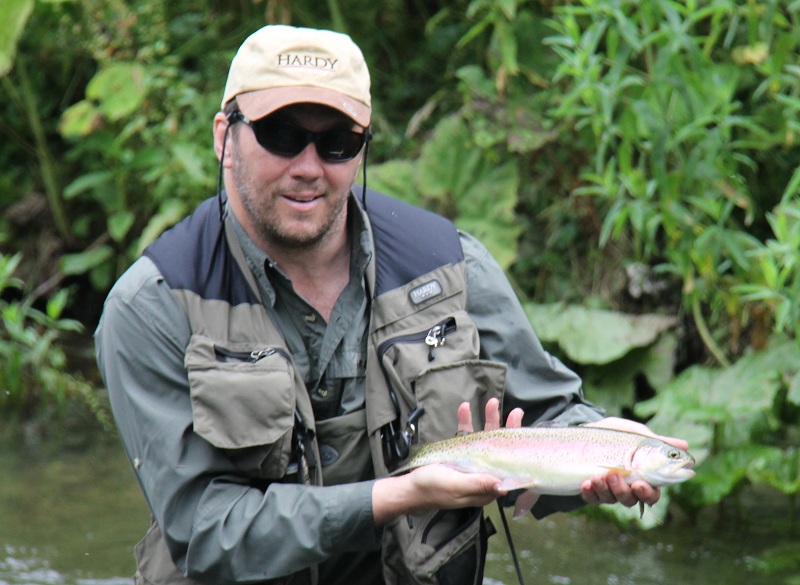 By this time it was around 12.30pm. I'd had 20+ fish to the French leader so i knew i could catch fish on that method…….. it was time for a change. Now i usually wait for some sign that the fish are taking food from the surface…….. but there was no sign of that so i decided i wanted to use the dry fly method even though at that moment in time i knew it wasn't the best way to catch the most fish. So i set up the dry fly rod and put an emerged on……. nothing! No surprise there. Ok so the trusty Ffly…….. nada! Quill bodied Olive?? a fish second cast…….. cracked it! or not as became apparent over the next 30 casts. I'll take a walk and hope they "come on". Unfortunately they didn't.
Luckily for me and to save my blushes it was time for a BBQ courtesy of Mr Pryor. All gathered back at the hut among the smell of burgers and sausages we shared stories of our day and it turned out everybody struggle to a degree on the dry fly which is very unusual on the Wye as its a terrific dry fly river. Anyway more pressing things were ahead of us……. notably burgers, sausages, salad (just to be healthy) minted pots and wine……… very civilised ! All of that consumed and we had 45 mins left to have a final few casts before departing… I nipped upstream into a pool i really enjoy fishing. I changed back to the earlier French Leader set up. Went through the pool for 5 fish and finished on a beautifully marked wild rainbow of around 1/2lb. That was it for me. I'd had a brilliant day with great company to boot. What more could a man want than that? As Paul Daniels always says "Not a lot!" Many Thanks to Chris and John for arranging the day and to Danny, Paul, JT and JP many thanks for good company.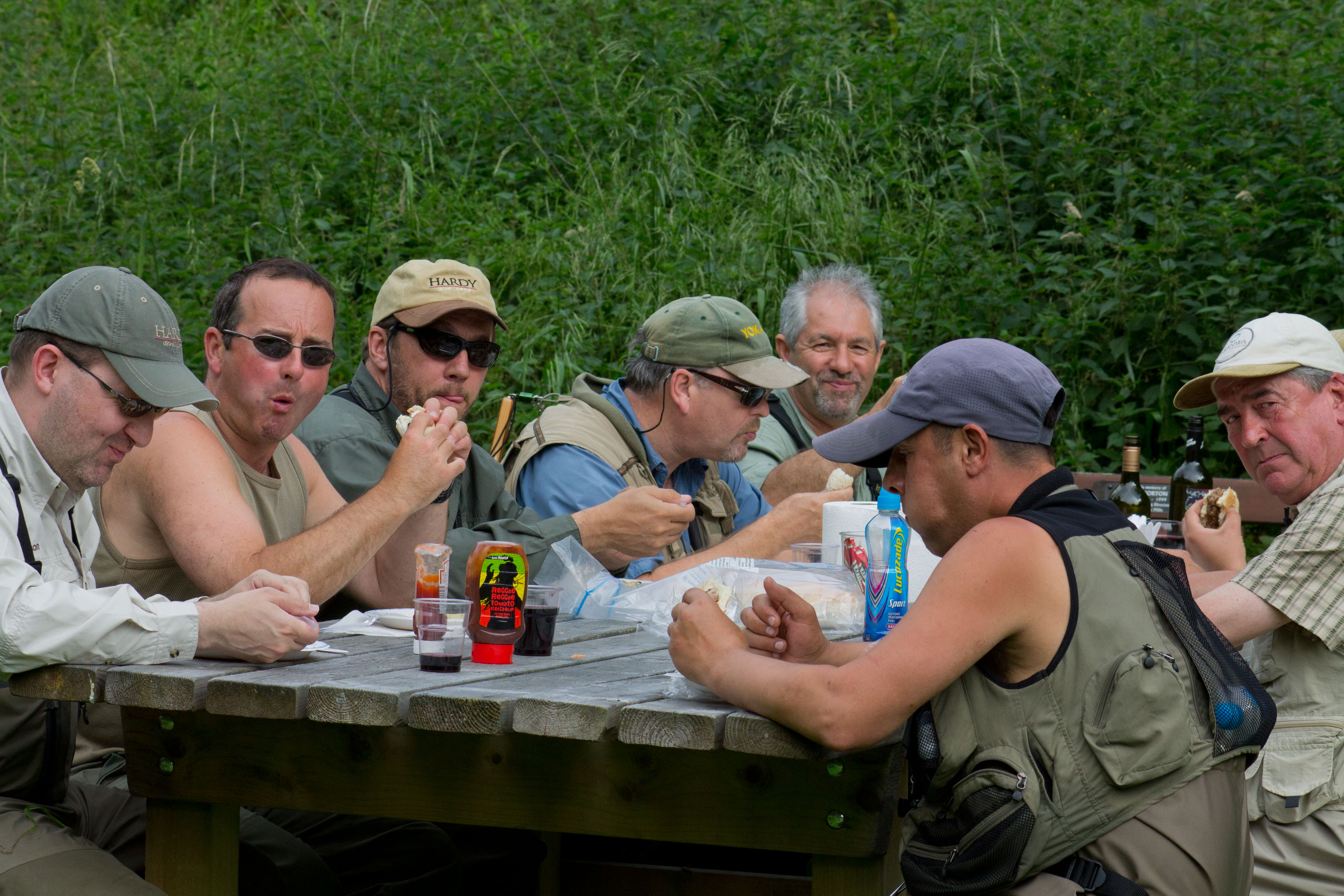 I'm sure JT has his own memories of the day. Check if his memories have any relation to mine. I'm sure it'll be posted on his personal blog sometime soon :)
www.johntyzack.co.uk
Once again
Tight lines
Deano