I decided I was due a couple of days on the river. As the weather has been very much up and down I decided not to go too far and limit the chances of a long drive back after finding out the river was colored and not fit to fish. So my nearest river (and one of my favourites) is the river Don. There is so much river to choose from and the majority is as picturesque as any in the country.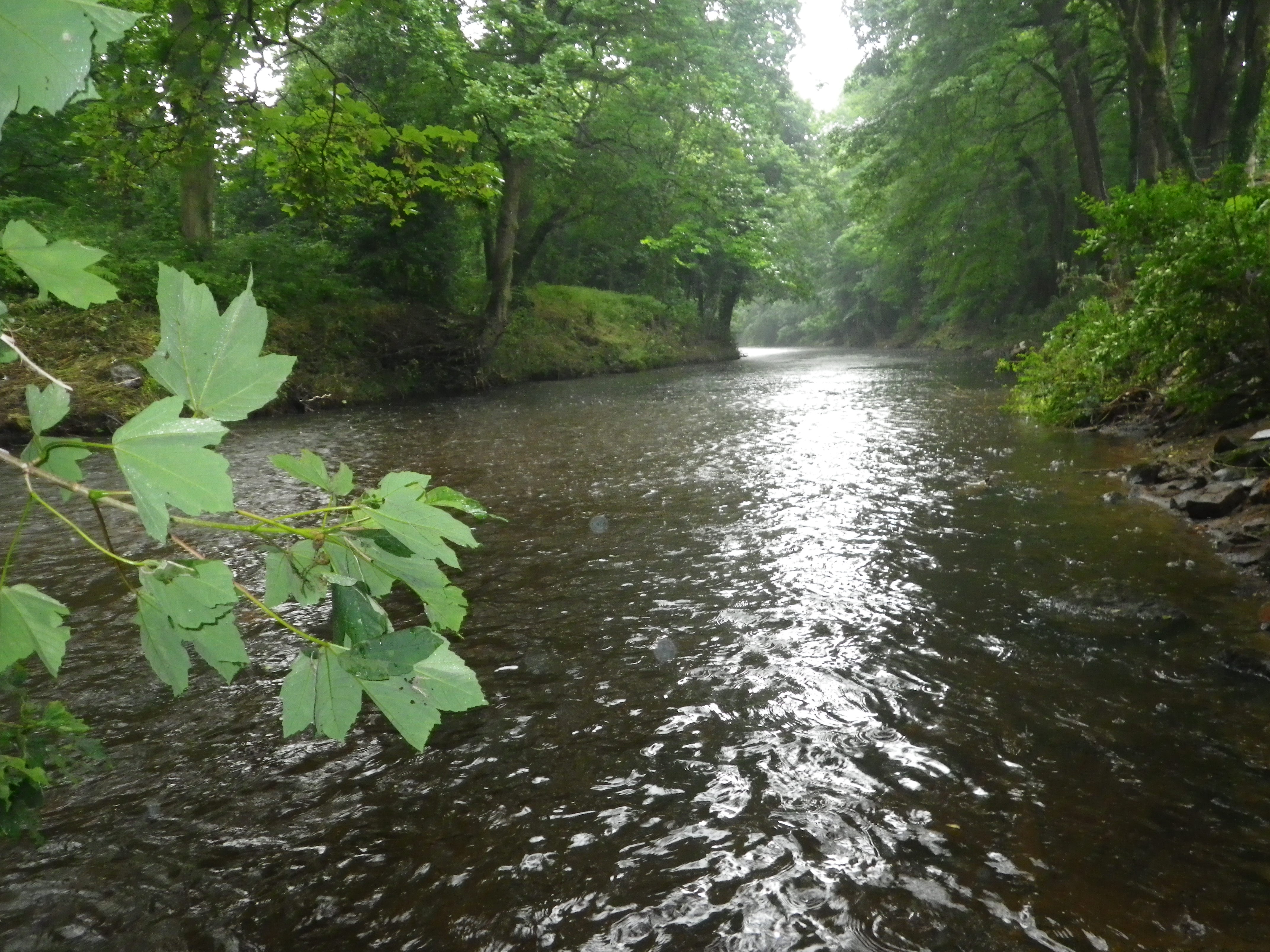 I set off out yesterday to a part of the river which is not always the easiest to fish as its one of the first parts that gets very low. As we have had a lot of rain I thought the level would be up enough to hopefully hold some fish............ I was not disappointed. I arrived in bright sunshine around 10.30am and the temperature was 18deg. To get to the river I usually cross a little feeder stream. As we'd had a lot of water the usually very very small stream actually looked quite inviting. So a quick chuck in there seemed appropriate as I'd not fished it before. I'd set the "French Leader" up again with my trusty silver beaded quill bodied skinny nymph on the point and JP's quill bodied copper beaded spider on the dropper. So would the usually tiny feeder stream produce a fish?.......... second cast......... question answered........yes! a beautiful brownie came to JP's spider........ result! Another 10 casts and 2 more lovely wild fish.............. time for the river proper.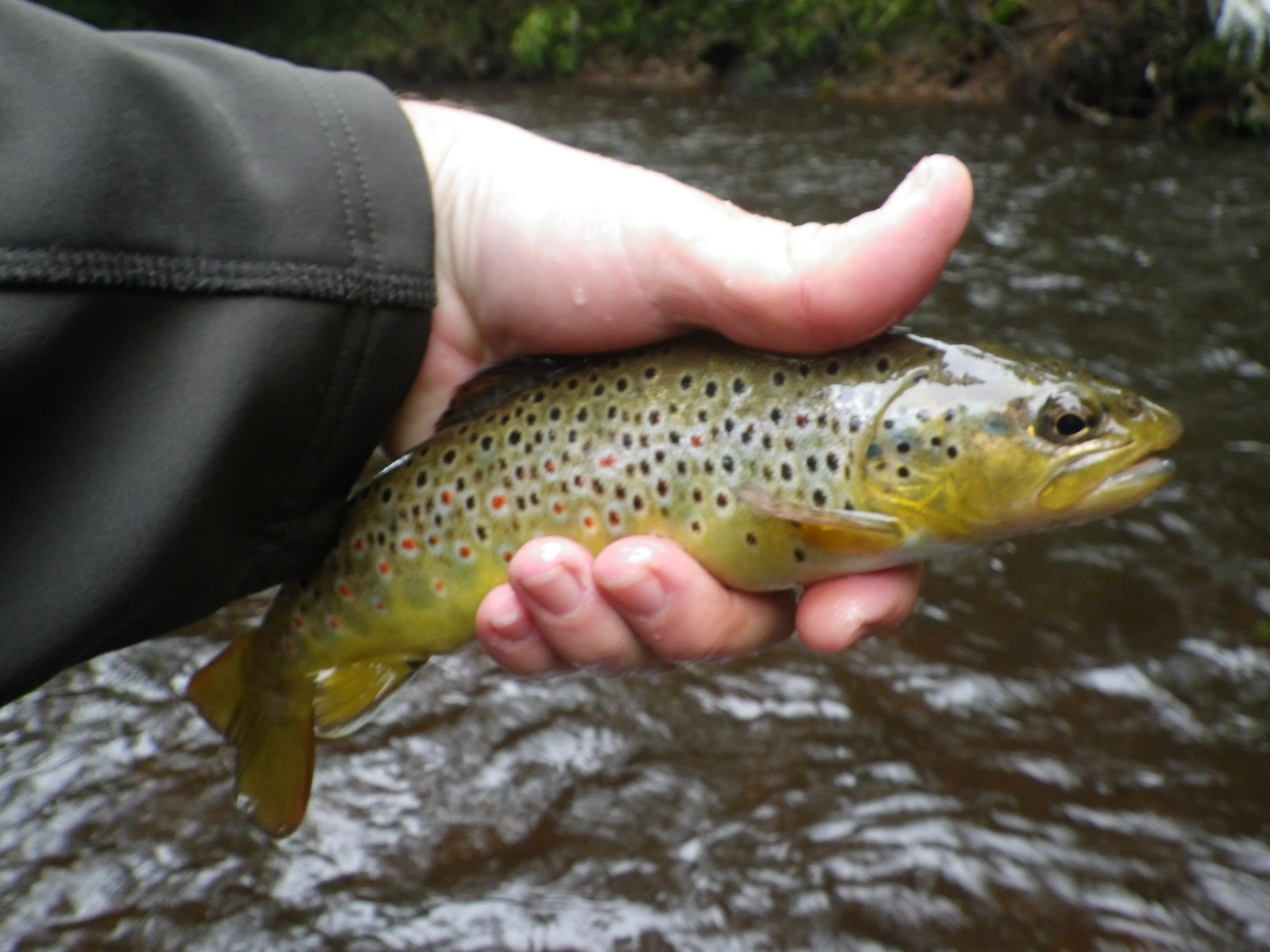 The section I decided to fish I hadn't fished before due to as previously stated......... its usually too skinny but it looked ok so in I jumped. Almost instantly I was rewarded with a grayling of around 8oz. The river was really pushing through and wading was a little tricky so finding the slightly slower bits of the river were definitely the way to go. Fish started to come quite regularly to both flies. Wherever there was a slack piece of water...... there were fish. I won't bore you with numbers but suffice to say I had my fair share. That went on for the 3 hours I stayed. I caught 90% brownies and grayling made up the rest. The trout seemed to be very hungry after the extra water had not helped them over the previous few days. A cracker of a day in anyone's book.
So to todays outing. I decided to go around 3 miles downstream of yesterdays section. I arrived at roughly the same time as yesterday but the sunshine of yesterday had gone and it was about 13degrees. The forecast was for rain so it wasn't looking ideal. Not to be put off I started to walk down the river bank. I got to my chosen pool and started to fish. Whenever I'm on the river Don I always start off expecting a fish with the first cast....... that didn't happen. I kept casting while wading across the river to my preferred side. Numerous casts and still not a touch....... very unusual. Then I fluked one. You know how it is....... you're at the end of your drift and are just about to recast when you feel a fish. There was no indication...... I watched it all the way. It was a grayling and must have taken the nymph just as I was pulling out to recast. Onward and upwards I thought. Five mins later I fluked another......... same thing..... just pulling out to recast and another grayling had taken my point fly. I get an occasional fluke as everyone does but 2 in a row? Anyway I carried on regardless. Within a few more cast I got a stonking take and a lovely brownie came to the net........ normality resumed....... or had it?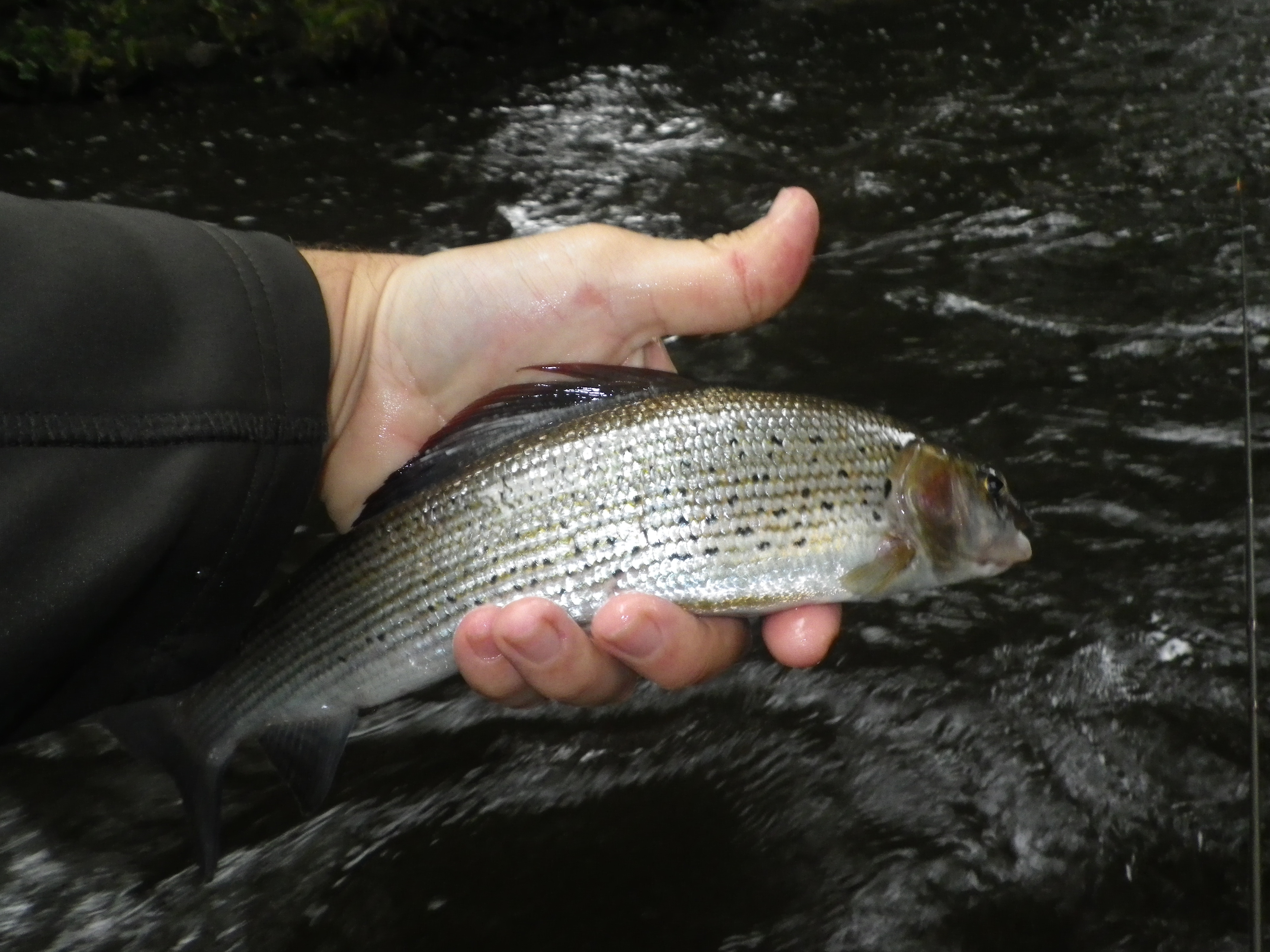 I fished for another 10mins with nothing to show and then........ I fluked another grayling. What was happening? I'm not the greatest fisher in the world but i'm ok and I definitely wasn't seeing any indication of a fish taking. What i did think was how different from the many trout i caught yesterday. I was only really catching grayling...... Mmmmmm?
I kept plugging away with the "French Leader" system. Using it in the way it's meant to be used (at range) and I was catching occasional fish but not in the same numbers i'm used to. So was it the weather, the flies or me? I was still catching mainly grayling and just the odd trout. I started to experiment with the Leader system. Shortening off and letting it drift below me i.e czech nymph style. Now this is a method I would usually use during the autumn/winter part of my year while fishing for Grayling. Well I was catching grayling, nothing was rising and I wanted to catch fish...... which was the reason I was there so I was trying a few tricks of the trade. Instant success....... a nice grayling just below me. Then another, and another. I'd fallen on a pod of grayling and it kind of felt wrong to be fishing for grayling with a method I employ during the winter months. So now I was in a quandary. Do I keep catching fish with a method that felt like a winter method? or change to something that wasn't really catching? Dry fly wasn't even a contemplation. So I kept going for another half hour and caught quite a few more fish before calling it a day. I'd caught some lovely fish. Not maybe in the way that I would have chosen but a way that caught fish. I felt i'd had to adapt/think on my feet on a day that was very unusual from the norm. The French Leader system was as adaptable/flexible as the fisherman and both did what they'd set out to do and that was to catch fish.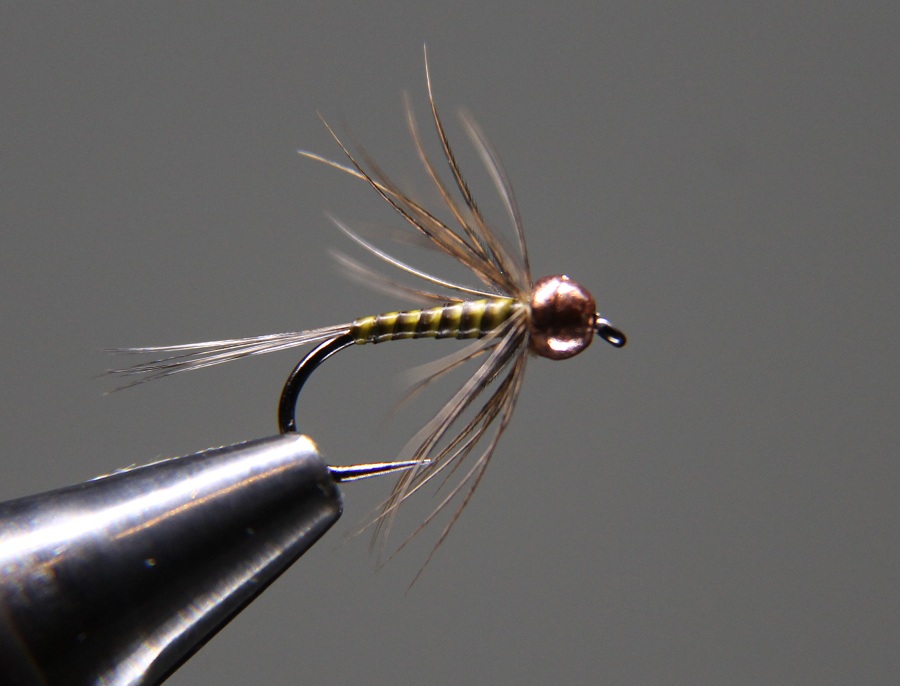 The bonus of the day was the Copper headed spider JP had tied me up....... they caught many a fish so will become a regular in my box from now on. Until next time
Tight lines
Deano