I've been fishing for many many years now and fly fishing on rivers and small streams for most of that time, so you'd perhaps think that I've seen most of what was possible or at least likely in such an environment. Well last week I had my eyes opened once more...

I picked up my mate Woz and instead of fishing 'his' river' we headed for a new destination. A local chap had told us about a new piece of urban stream which held a few trout. Underestimate or ignore local knowledge at your peril. Time to check it out…

Finding it wasn't easy for a kick off. Parking was miles away down some dodgy back alley and when we found the stream it was one of those walled and enclosed jobbies that's impossible to get into. Now in my youth, it wasn't uncommon for me to abseil down into places like this, but I'm getting too old for that stuff now (and Woz is catching me up fast!) so we walked downstream until we found a bit of collapsed wall. At least this gave us the chance to see (something of) the pools we'd be fishing back through. It wasn't easy though as the entire stream was enclosed in dense tree cover.

First impressions? Very interesting indeed. Peat-stained with a clean gravel bottom and some deeper bouldery pools, especially on the bends. It was 'welcome to the jungle' stuff though - trees everywhere - why had I brought the 9 1/2 ft rod? Simple answer: because I was going to set up the French leader and double nymph and Woz would stick a single dry on his shorter brook rod – it's the same way
the Fish On boys do it when we are out together. I'd pulled off the usual amount of 0.10mm Stroft to make up the leader when something stopped me. I cut it up into little pieces and made up a new leader from 0.12mm - this was to prove a very good call...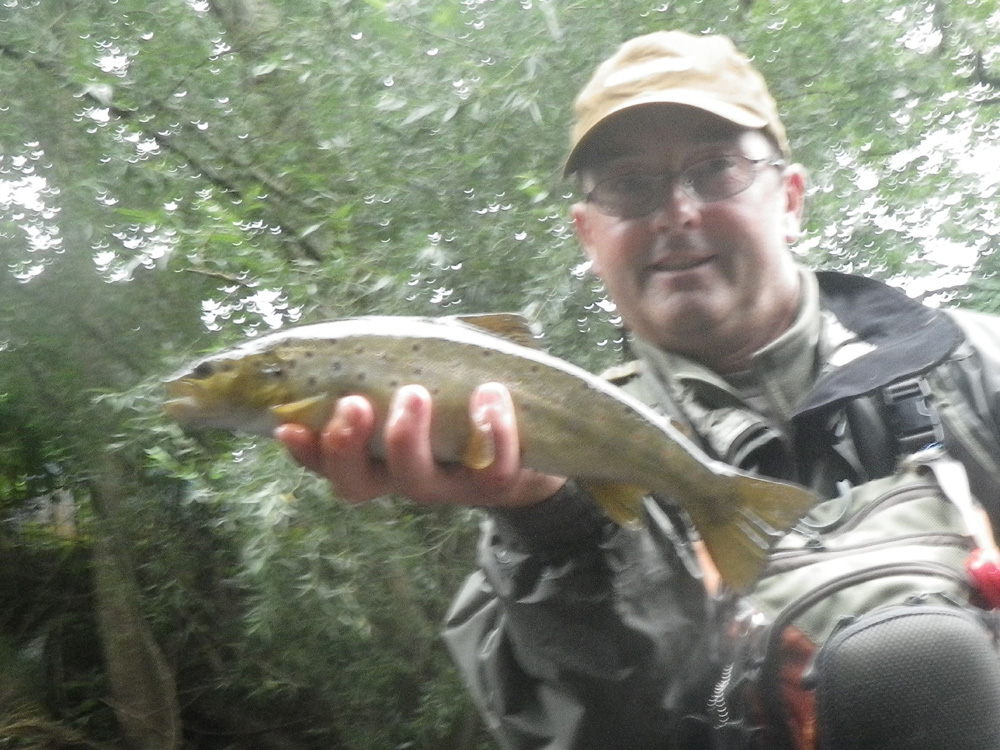 I think I go for the nymphs because that way I get first dibs - no way would they be rising so early in the
morning. Pitching into the first bit of deep dark water and the indicator shot upstream first cast. Something strong and angry was on the other end and led me a merry dance round his small domain. First fish of the day has to be netted and photographed - it's traditional - and so here it is.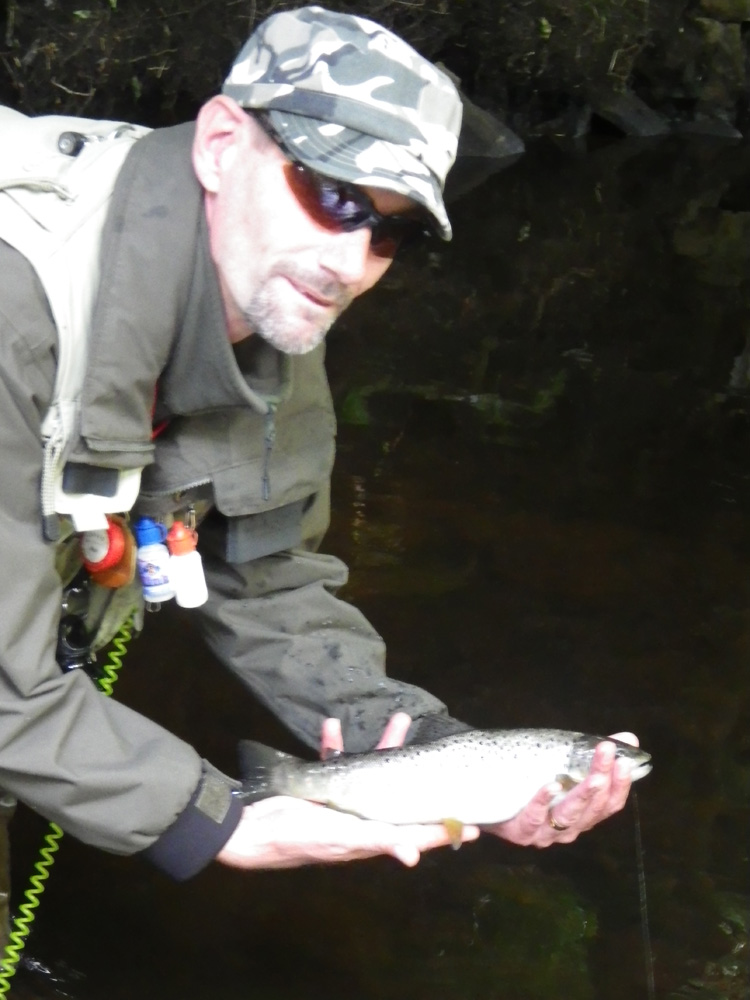 Over to Woz and into the next deeper section. Several fruitless casts at the tail of the pool and then 'bingo'. Another solid take and another battle on. Rod tip straight up into the trees - long distance release! But the next fish was successfully landed and it was another good solid chunky one - "What do they feed them in here?" we were thinking.

And so the session progressed. Rod sharing, with one fishing until a successful fish capture occurred OR until the shame of not catching one for so long outweighed the desire to do so! There were some trials and tribulations along the way. Woz's penchant for playing fish with his rod tip firmly entangled in the foliage didn't help. Neither did my 'going-to-net-a-good-fish-on-the-point-fly-but-catching-said-net-on-the-dropper' routine. But there were some successes too!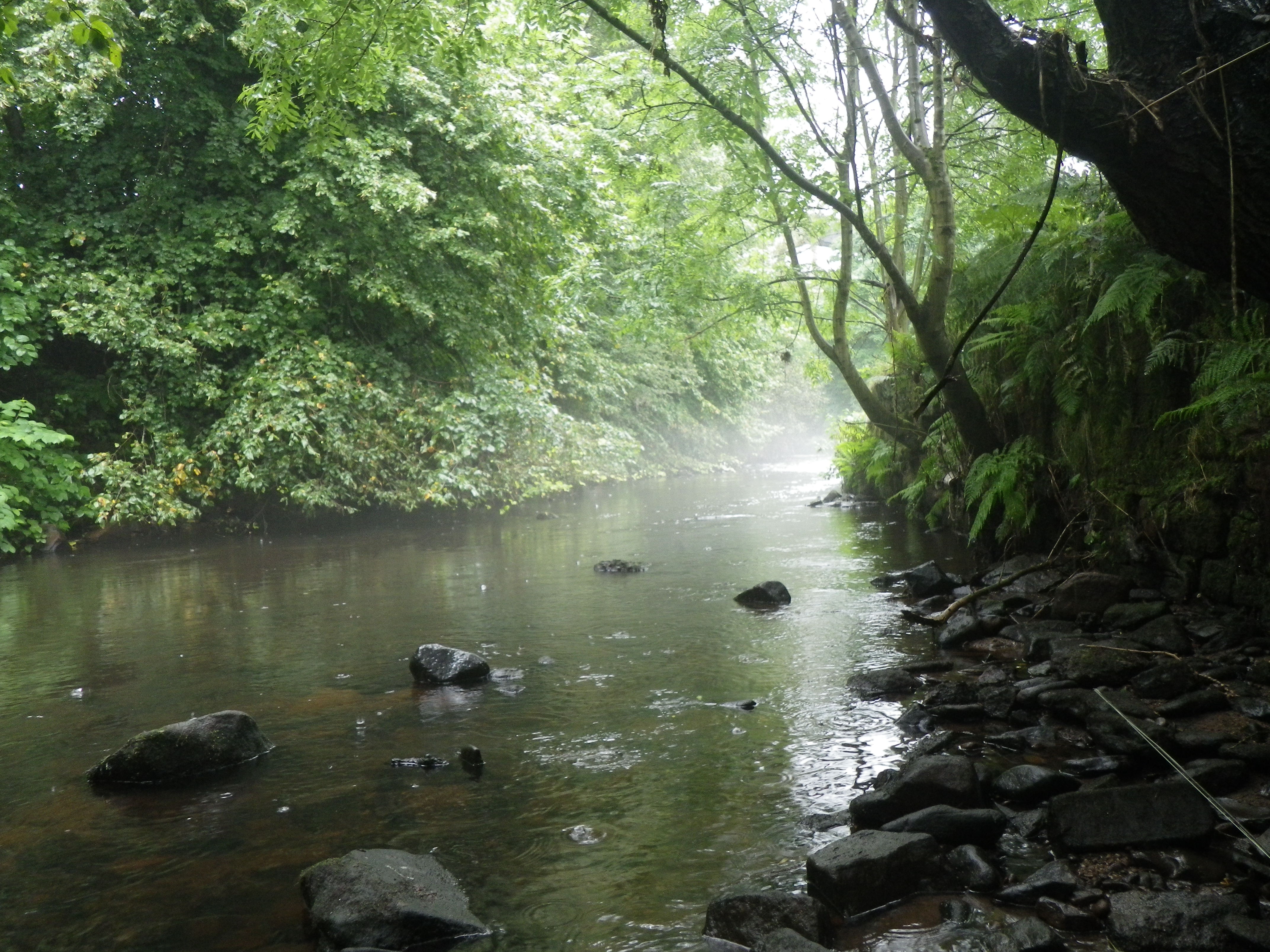 Fast forward about half an hour and we were approaching a bridge - a railway bridge I think. One huge bridge support divided the stream into two gorgeous looking and really deep runs. Behind the support in the slack water was a mellee of debris deposited there after the last flood no doubt. It was my turn on the rod and I went for the right hand run up against the far wall. It looked perfect. Everything felt right and we knew it was going to hold fish. But it produced absolutely nothing. Neither of us could quite believe it and I was doing a lot of "tut-tutting" as I passed the rod to Woz and made way.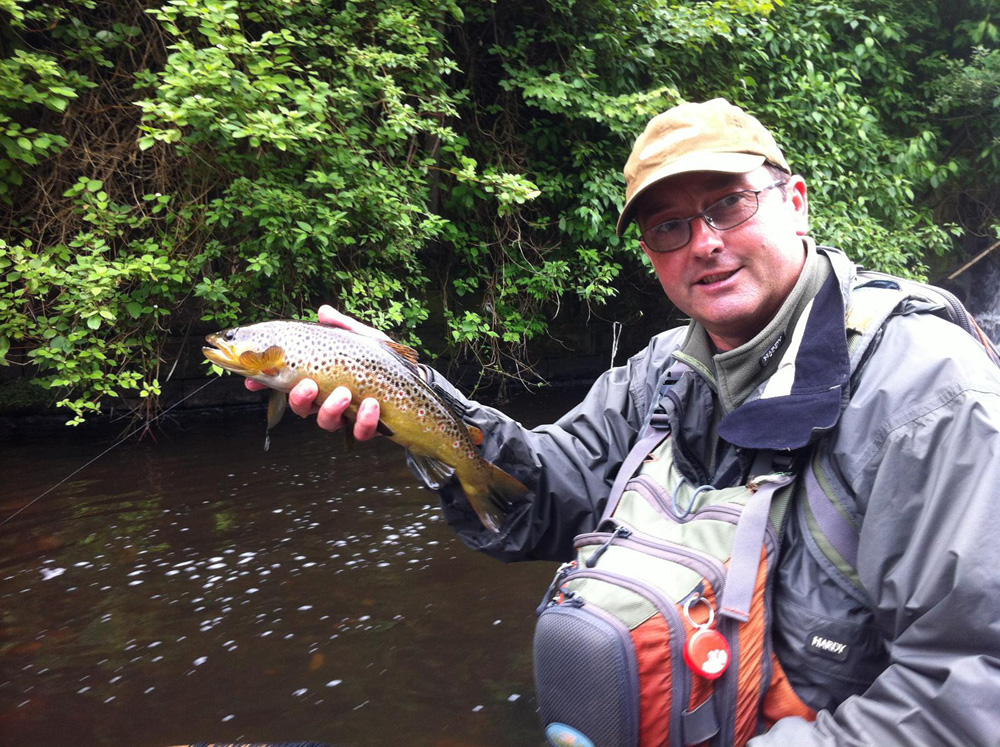 He proceeded to fish the run to the left of the bridge support. If the fish weren't in the right hand run they had to be in the other. Right?

Wrong. Nothing there either. We'd just fished two wonderful looking pieces of river - better than anything we'd seen to date - and caught zip, not even a tiddler. I joked as I took back the rod that it was possible there was one really big fish in there and it had probably eaten all the rest. Ha ha ha...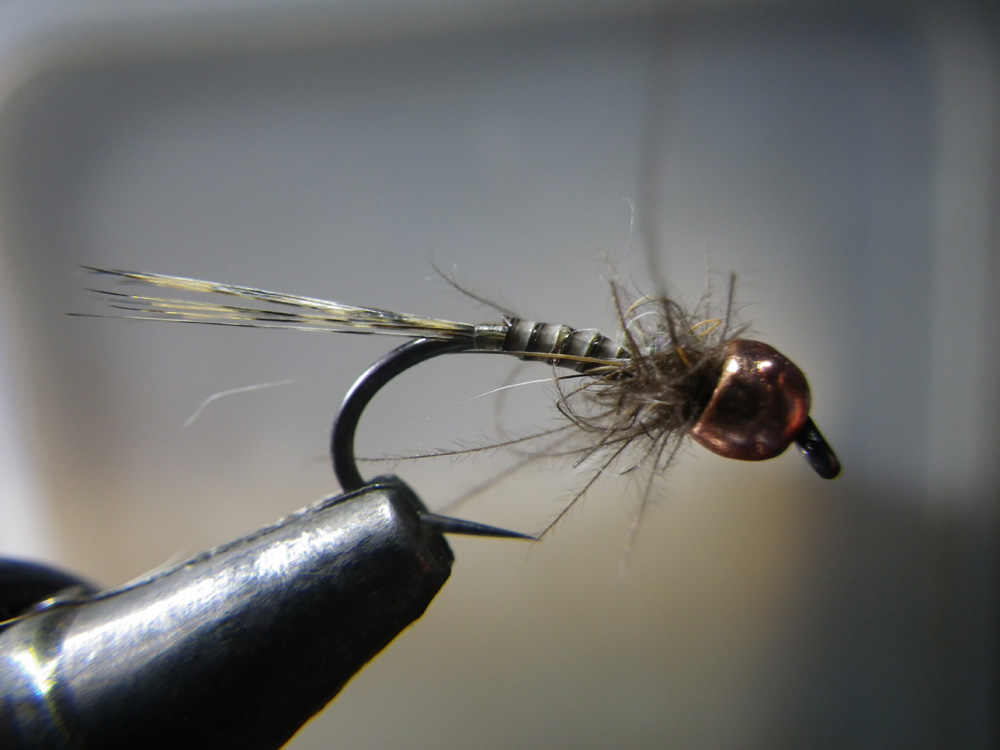 We were above the bridge by now and into a streamy section of water. About 2 1/2 feet deep and pushing through at the top. If it wasn't for the railway bridge, you'd have said it was all part of the same pool and I was just fishing up into the head. I'd kept the same flies on we'd used for the two deep runs - a pair of CDC/quills - so there was always a possibility I'd be too heavy for the shallower water and it wasn't too much of a surprise when the indicator stopped dead on the second or third cast. I struck instinctively (as I always tell my clients to do) and predictably met with solid unyielding resistance.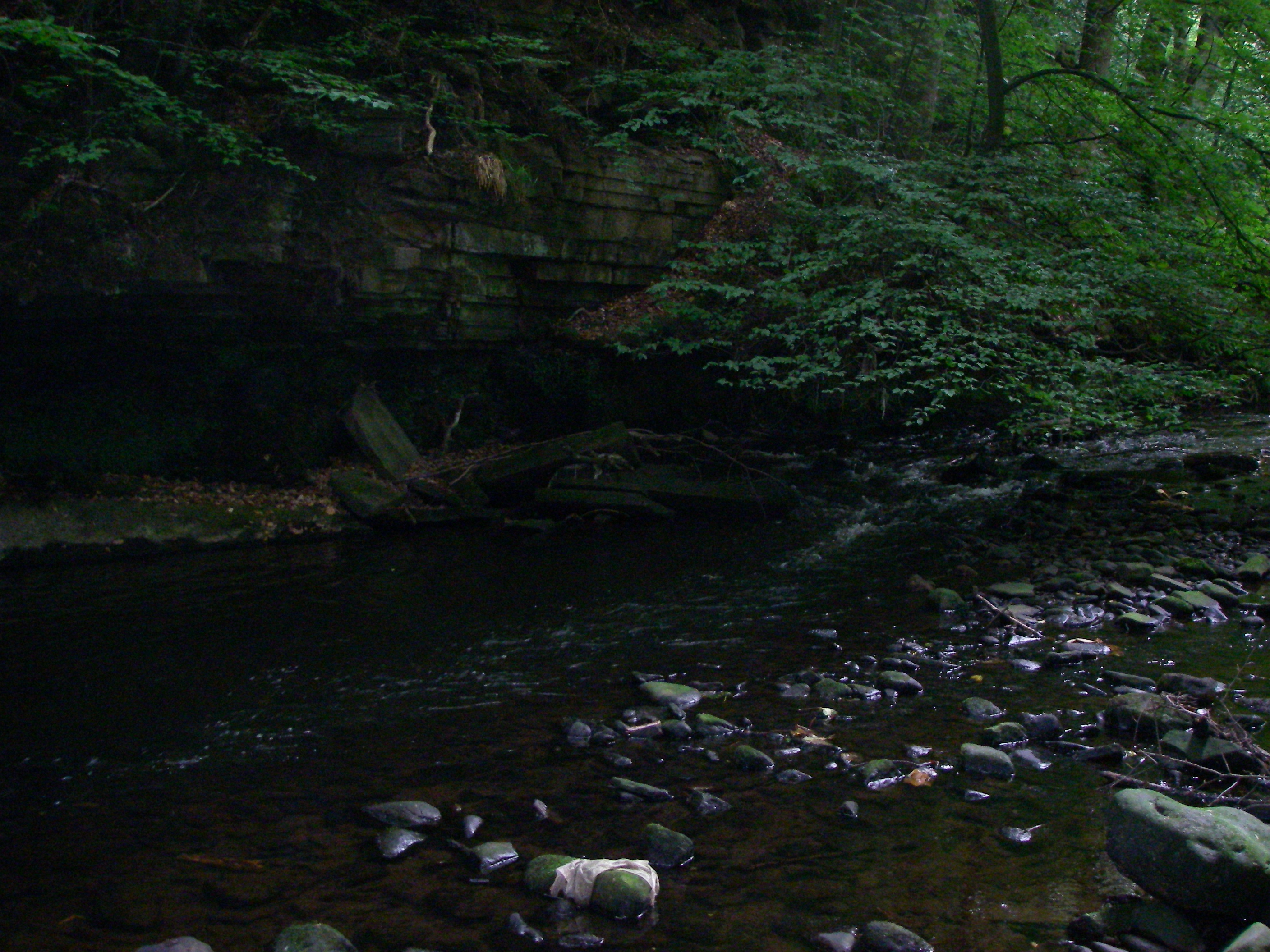 I was just about to move upstream of the snag to free the flies when a strange sensation came back to me through the rod. It felt like the snag was floating down the river slowly. Maybe I'd hooked and dislodged a big submerged log?

It was a possibility I suppose, but one we quickly discounted as the reel then emptied of fly line in a matter of seconds. Zzzzzzzzzzzzzzzzzzzzzz! God, I love that sound! This was a trout, a very big one and it was absolutely furious.
It was away back downstream below the bridge before I knew what was happening - fortunately the LEFT hand run or I'd have been smashed all ends up - and it was making for the pile of debris. I threw the camera to Woz shouting something about get it on video mode and hurried off down after the fish as fast as I could. It wasn't easy as the water was waist deep and full of boulders but there must be something about having a big fish on that helps you to float down through them and get back into place to continue the fight. The fish was boring into the debris trying to rid itself of the irritant (me I suppose) but the line held as I coaxed it out into the deeper water once more. Coils of fly line were all around my feet and in the bankside vegetation - better get this back on the reel I thought. But as I'd started to wind the line back on the fish decided it didn't want to be there anymore and powered back upstream into the run where I'd hooked it.

So it was back up through the deep left hand run for me, stumbling about and regaining line as I went. Ha! Both me and fish in the same place again. Now let's have a look at you eh? But it must have been a shy one cos it stayed hidden giving us only the most fleeting flashes of gold from down deep. Finally it ran over to the shallows on the far bank and at last we got a good look. WOW! I spent the remainder of the fight sick to my stomach at the thought - the possibility - of losing this fish. An insane fight or ridiculous run can sometimes result from a small foul-hooked fish and you don't ever know until you see the fish. This was very definitely not foul hooked. And it was absolutely huge. And I was a jibbering wrec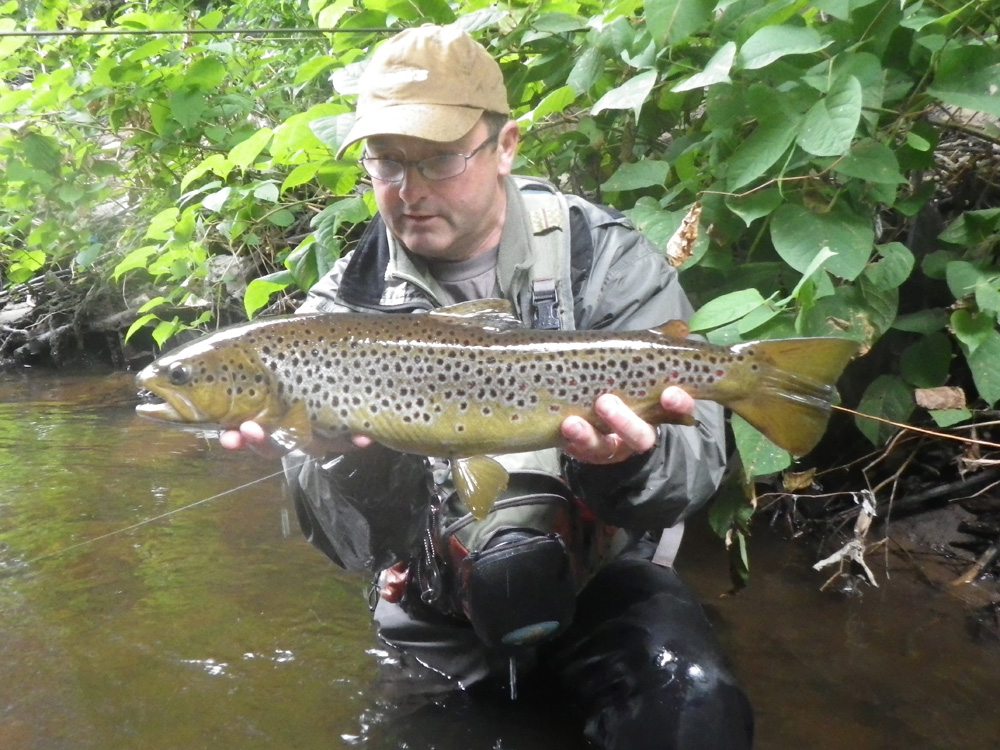 k!

The fishing gods were obviously smiling on me that day because I didn't lose it and finally managed to get all of it into the net. With trembling knees, I sank down into the gravel while Woz switched to photo mode. This is without doubt - pound for pound - and taking into account the size of the stream, one of the best brownies I've ever caught in my life.

The weight doesn't matter to me, but if it does to you then I can tell you that it was exactly 4lbs 4oz. What a fish!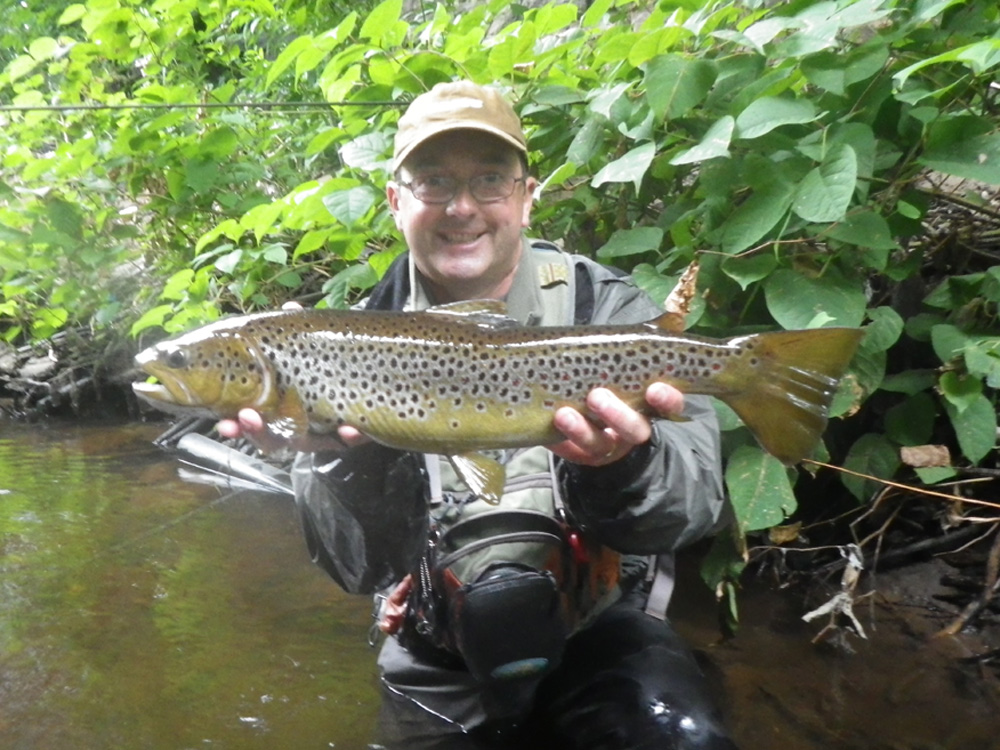 Remember that joke about a big one that had eaten all the others and had the pool to itself? Looks like I was right. Well I was almost right, because as you might imagine I was not going to be doing any more fishing for quite a considerable while (knees like jelly and basking in the glory etc etc) - Woz took the rod and continued up the pool, finally taking a little half-pounder right in the white water at the head. That has to be the bravest half-pounder in the stream!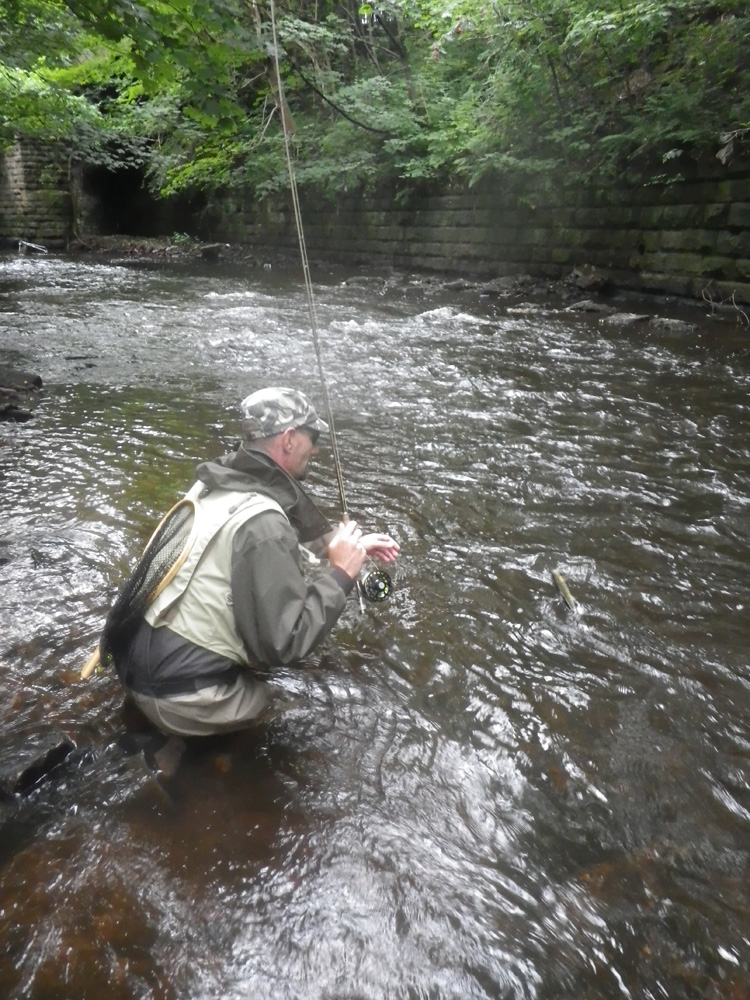 The rest of the session is a bit of a blur to be honest. I remember switching to dries at one stage on a flatter
wider glide where we'd seen a few rises. Woz is a big fan of the parachute Adams, and to be fair to him it worked quite well. We had a few nice fish in the 12oz to 1lb range from that glide. I can also remember a road bridge with a lovely foam-flecked run coming into it with deep, dark, fishy-looking water all around. I remember doubling up on the nymphs with two fish of well over a pound apiece and having a bit of a giggle with them up to the point where the inevitable knot break occurred. I remember the last cast of the day where I hooked yet another huge trout which came straight out of the water like a Polaris before disdainfully spitting the flies back at me - it was beautiful, butter gold in the belly, fantastic spotting and in wonderful condition. I bet it would have gone 3lbs or so. Normally I'd be gutted, but there and then I didn't give a monkey's! We packed up and walked back to try and find the cars. I had an idiotic smile on my face.

And I still have.

Tight Lines

JT